Anita Carbajal
'Cool It'
Actor - author
Born: Anita Carbajal, Santa Fe, NM, July 29, 1972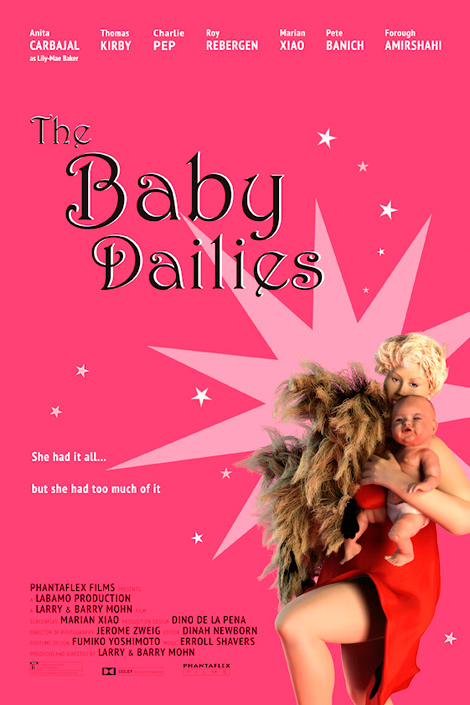 Anita Carbajal in 'The Baby Dailies' (poster)
Digital 3D drawing, print on canvas, 80x120 cm, 2015
Graphic design: Liesbeth Nieuwenweg
Edition 3 (+ 1 AP)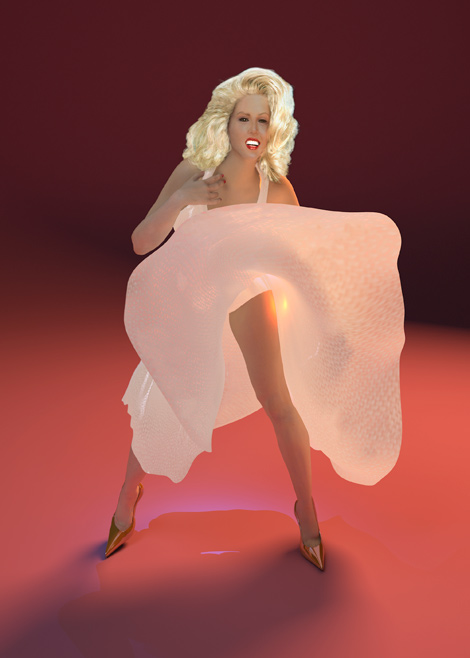 Anita Carbajal in 'The Baby Dailies'
Digital 3D drawing, archival C-print, 40x56 cm, 2015
Edition 3 (+ 1 AP)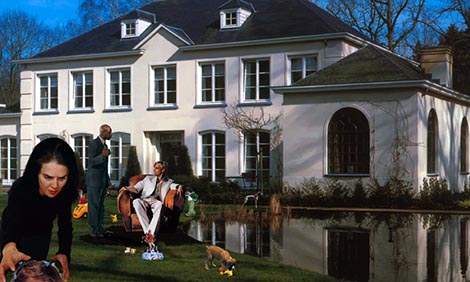 Marvin Dunbar, Roy Rebergen and Anita Carbajal (left) in 'Burgaman' (dream)
Digital painting, archival C-print, cibachrome, 24x40" / 61x102 cm, 2000
Edition 3 (+ 1 AP). 1/3: Collection KPN Nederland, The Netherlands; 2/3: private collection, United Kingdom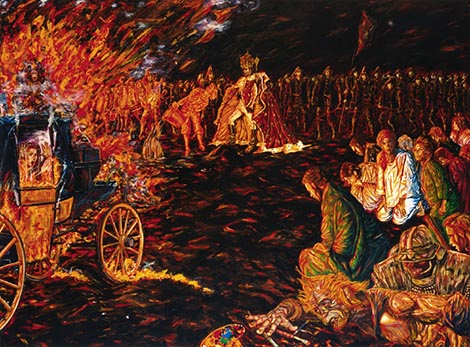 Thomas Kirby, Michael Okada and Anita Carbajal 'A Fiery Tale' (conflagration)
Also in the picture: John Malkovich, Sigourney Weaver
Acrylic on canvas, 59x78.75" / 150x200 cm, 1990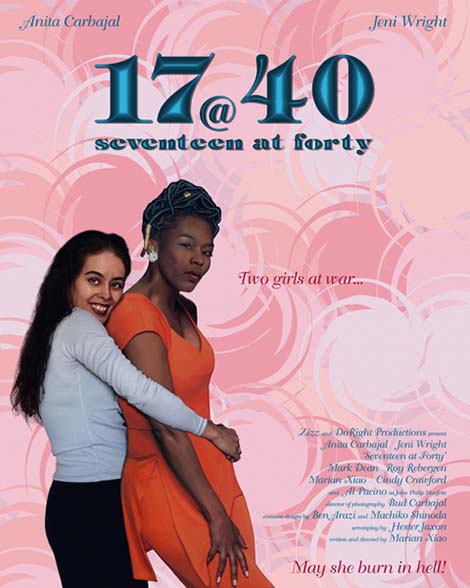 Jeni Wright and Anita Carbajal in 'Seventeen at Forty' (poster)
Digital painting, archival C-print, cibachrome, 50x40" / 127x102cm, 1999
Graphic design: Liesbeth Nieuwenweg
Edition 3 (+ 1 AP)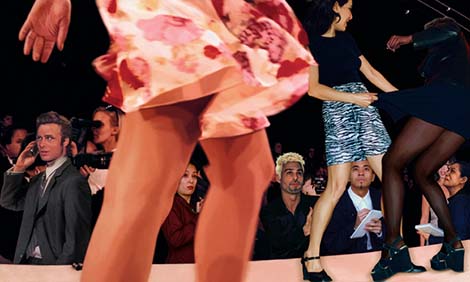 Jeni Wright, Anita Carbajal, Roy Rebergen, Marian Xiao and Mark Dean in 'Seventeen at Forty' (catfight)
Digital painting, archival C-print, cibachrome, 24x40" / 61x102 cm, 1999
Edition 3 (+ 1 AP): 1/3 private collection, The Netherlands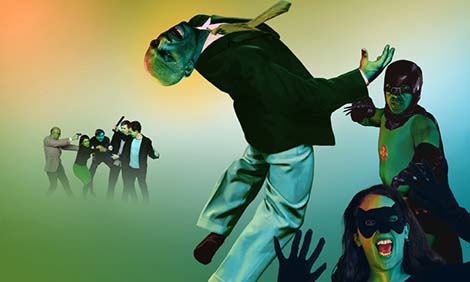 Marvin Dunbar, Roy Rebergen and Anita Carbajal in 'Burgaman' (crime)
Digital painting, archival C-print, cibachrome, 24x40" / 61x102cm, 2000
Edition 3 (+ 1 AP)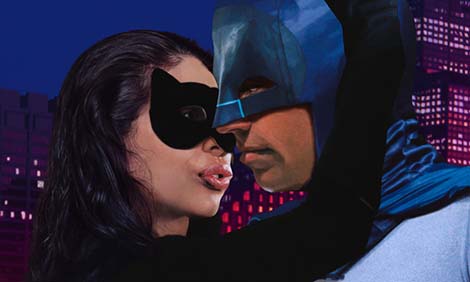 Anita Carbajal and Roy Rebergen in 'Burgaman' (kiss)
Digital painting, archival C-print, cibachrome, 24x40" / 61x102 cm, 2000
Edition 3 (+ 1 AP)

Anita Carbajal is the daughter of superstar actor Michael Okada and Nicaraguan dancer and singer Cat (Katherina) Carbajal. Her parents divorced almost the day she was born. Her parents' busy working schedules led to Anita living a nomadic existence during her childhood, albeit she was raised mainly by her maternal grandmother. Still doubtful whether to follow in the footsteps of her mother or her father, she trained modern dance with Alvin Ailey, Merce Cunningham and Martha Graham and took acting lessons in the Actors Studio, while she made a living singing 'bawdy' songs at parties and in nightclubs.
In her first film role, A Fiery Tale (1990), she is the daughther of the apish painter, Thomas Kirby, and lady-in-waiting at the court of the cruel emperor, Michael Okada, and she will end up in an infernal fire.

After A Fiery Tale Anita Carbajal embarked on a world tour of three years with the Martha Graham Company. Returning to New York in 1993 Anita joined the Flasch Repertory Theatre and could be seen in bit parts in drama productions such as One Bathroom Sock, The Dragon and The Faceless Woman, while she firmly established her name on stage as Charlie Pep's costar in The Apology of A Coward (1994), which was televised in 1995. Anita Carbajal's career really climaxed in 1999 with her performance as the snaky, yet libidinous fashion broker in Seventeen At Forty (1999), opposite Jeni Wright. This was followed by her role as Charlie Pep's corrupt client precipitating his demise in Filial Law (2000); the wily vamp Concheatah in Burgaman (2000) opposite Roy Rebergen; the potbellied, piggish art dealer, Tanja, in The World Of Ism (2001); the actress wife/mistress of Thomas Kirby, Dustin Hoffman and Michael Okada in The National Inquiry (2002); and a New York homeless in Moochers (Not Allowed) (2003). In Immanuel Tzul's Witness for Justice (2007) Anita is a Guatamalan physician who testifies to the abuse suffered by her Mayan family. The falsehoods found in her testimony are counterproductive to her cause. Carbajal is a playboy centerfold girl turned millionaire fortune hunter turned reality entertainment icon turned up dead in The Baby Dailies (2008).

Selected Filmography
1990: A Fiery Tale
1993: The Merry Wimp From LA
1993: Crack On The Wall (bit)
1994: The Color Green
1995: The Apology Of A Coward
1995: Stock Option
1995: Block Amok
1996: Stick It Up Your Ear
1996: Mom Is The Word
1997: Path of Fear
1997: Class Actors
1998: I Never Loved You
1998: Crimes Without Punishment
1999: Seventeen At Forty
2000: Filial Law
2000: Burgaman
2001: The World of Ism
2002: Portrait of a Nightmare
2003: Moochers (Not Allowed)
2007: Witness for Justice
2008: The Baby Dailies