Thomas Kirby
'King of Tragicomedy'
Actor
Born: Thomas Donald Kirby, New York, NY, May 21, 1943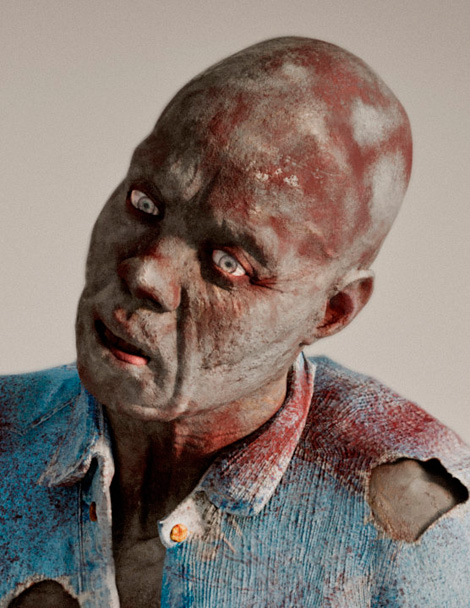 Thomas Kirby for 'The Ghost of Beestenwood' (Jeni Wright, 2015) screen test #1
Digital 3D art, C-print on fine art paper, Cinema 4D, 4DPublish, ZBrush, Substance Painter, Corona Render for Cinema4D, Affinity Photo, Luminar
Edition 10 + 1AP, © Elise Tak, 2018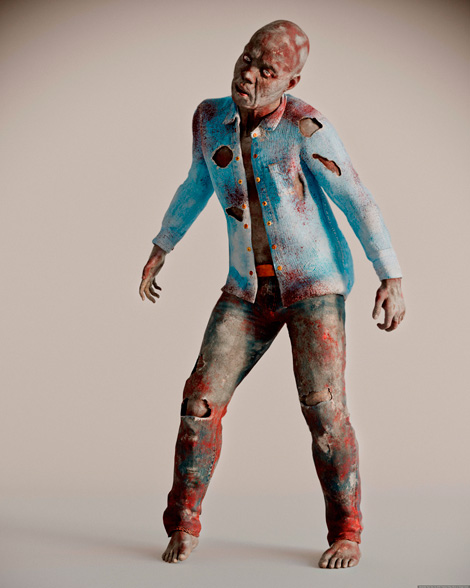 Thomas Kirby for 'The Ghost of Beestenwood' (Jeni Wright, 2015) screen test #1
Digital 3D art, C-print on fine art paper, Cinema 4D, 4DPublish, ZBrush, Substance Painter, Corona Render for Cinema4D, Affinity Photo, Luminar
Edition 10 + 1AP, © Elise Tak, 2018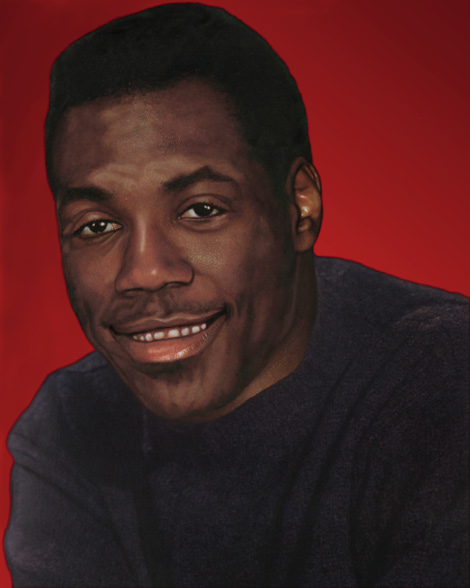 Thomas Kirby in 1968, age 25
Digital painting, glossy archival C-print, 10x8"/ 25x20cm, 2000
Edition: 10 (+ 5 AP)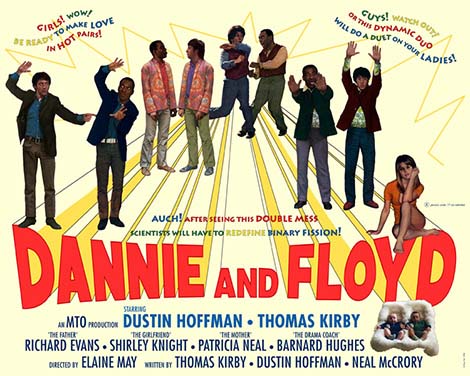 Thomas Kirby in 'Dannie and Floyd' (the alternate poster)
Digital painting, archival C-print, cibachrome, 40x50" / 102x127 cm, 1998
Graphic design: Liesbeth Nieuwenweg
Edition 3 (+ 1 AP)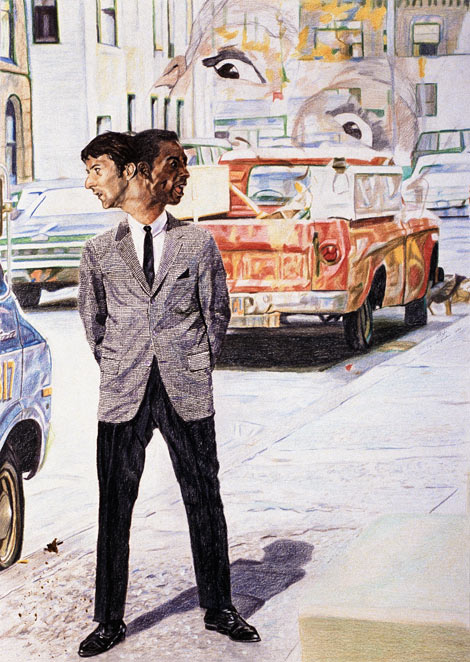 Thomas Kirby in 'Dannie and Floyd' (nightmare)
Also in the picture: Dustin Hoffman
Color pencil and ink on paper, 40x28.75" / 102x73 cm, 1988
Collection: FRAC Poitou-Charentes, France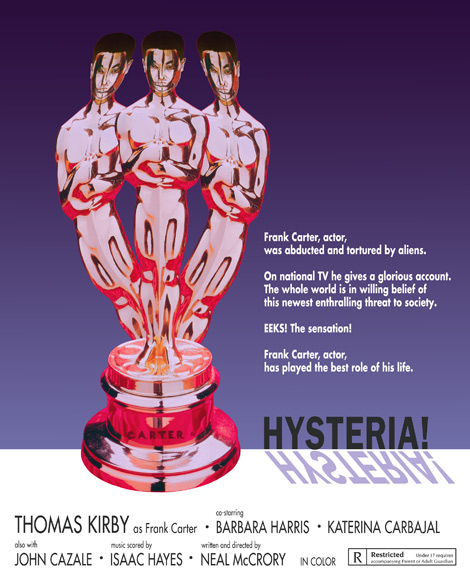 Thomas Kirby in 'HYSTERIA!' (poster)
Digital painting, archival C-print, cibachrome, 50x40" / 127x102 cm, 2003
Graphic design: Liesbeth Nieuwenweg
Edition 3 (+ 1 AP)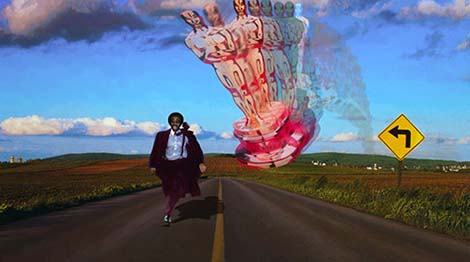 Thomas Kirby in 'Hysteria!' (run)
Digital painting, archival C-print, cibachrome, 22.5x40" / 57x102 cm, 2003
Edition 3 (+ 1 AP)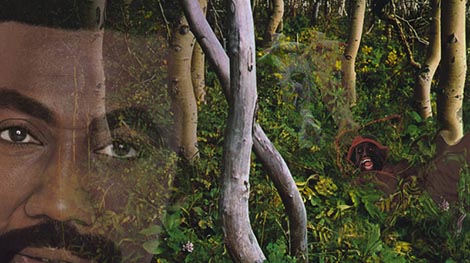 Thomas Kirby in 'Hysteria!' (forest)
Digital painting, archival C-print, cibachrome, 22.5x40" / 57x102 cm, 2003
Edition 3 (+ 1 AP)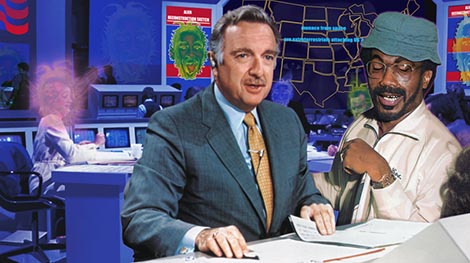 Thomas Kirby in 'Hysteria!' (TV)
Also in the picture: Walter Cronkite
Digital painting, archival C-print, cibachrome, 22.5x40" / 57x10 2cm, 2003
Edition 3 (+ 1 AP)



Thomas Kirby and Marian Xiao in 'The Baron of M' (inside out)
Digital painting, archival C-print, cibachrome, 14x28.75" / 35.5x73 cm, 2001
Edition 3 (+ 1AP)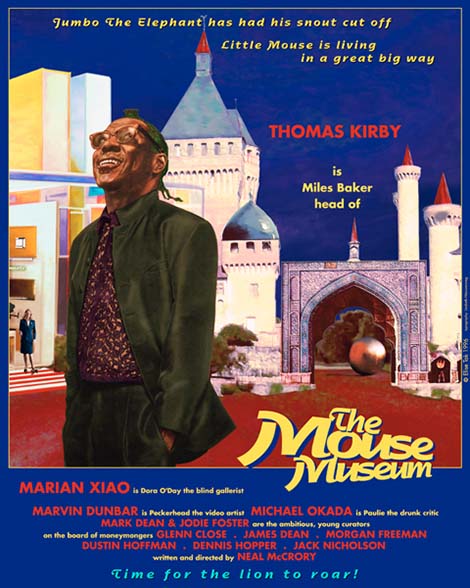 Thomas Kirby in 'The Mouse Museum' (poster)
Digital painting, archival C-print, cibachrome, 50x40" / 127x102 cm, 1996
Graphic design: Liesbeth Nieuwenweg
Edition 3 (+ 1AP). 1/3: private collection, The Netherlands; 2/3; private collection, Italy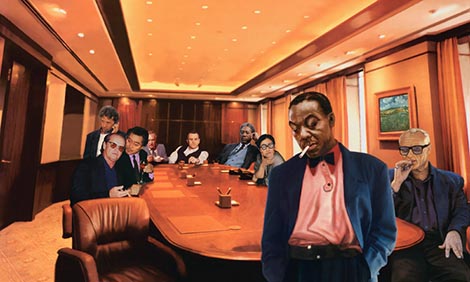 Thomas Kirby, Michael Okada, Marian Xiao 'The Mouse Museum' (boardroom or The Museum Director Gets Sacked From His Own Darling)
Also in the picture: Dustin Hoffman, Jack Nicholson, Robert DeNiro, Dennis Hopper, Morgan Freeman and a fictive James Dean
Digital painting, archival C-print, cibachrome, 29.5x49.25" / 75x125 cm, 1996
Edition 3 (+ 1AP). 1/3: collection KPN Nederland, The Netherlands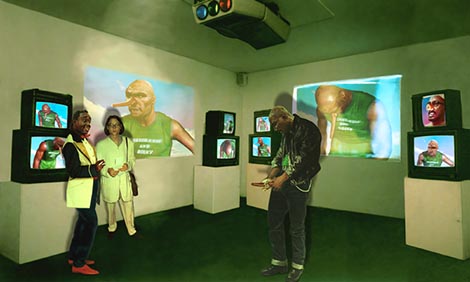 Thomas Kirby and Marvin Dunbar in 'The Mouse Museum' (video installation)
Also in the picture: Jodie Foster
Digital painting, archival C-print, cibachrome, 29.5x49.25" / 75x125 cm, 1996
Edition 3 (+ 1AP)

As a child Thomas Kirby was a whiz kid. At the age of 19 graduated from Harvard, an MA in French literature, and was on his way to more honorary titles and degrees. It would never be, as little Tommy had his sights set on a different destiny. In spite of the odds against this myopic guy of 5'6'' - hence his many childhood nicknames, e.g. 'Batty', 'Goggles', 'Half Pint' and 'Skimpy' - Thomas Kirby would come to be known all over the world as one of the most creative and innovative actors of our time. Next to being a workaholic, Tom is addicted to beautiful women and cited to have at least one mistress in every major city of the world. These rumors might be refuted conclusively by Tom's long-term liaison with the French designer Dinah Boujenah. They have a son, Errol Kirby, who at 20 already is a prolific entertainer, pianist, composer, arranger, band leader and singer.

Thomas Donald Kirby was born in Harlem, the son of the out-of-work scrap salesman as well as poet, William Kirby, and Lucille Stewart Kirby, the chef owner of the luscious Harlem diner, Honeysuckle, a favorite hangout for jazz musicians. Tom's autistic brother, Earl, for years has been institutionalized. In the 60s Tom's career was at a low point. In contrast, his personal life allegedly was exuburant. In 1966 a girlfriend's pregnancy led to marriage and to divorce the next year. In 1977 Tom's ex-wife and her second husband started an endless lawsuit against Tom for child support. In 1990 daughter Miranda wrote a bio on 'her dad', titled Bad Time With Tommy. Kirby is known for his gritty treatment of topics that may affect us all, but most loved for 'the typical Kirby', which usually are comedies with a humorously tragical and sexual pitch.
Tom's leap to international stardom from virtual obscurity came with Dannie and Floyd (1968), a semi-autobiographical fantasy on two irksome actors (costarring Dustin Hoffman). The duo Hoffman-Kirby would shake up the world again and again with their irresistable formula of wit and irritation in a series of highly successful comedies. A fond collector of modern art, Thomas Kirby has made two resplendent satires on the world of art, both of which smashed box-office records: Headless (1985) and The Mouse Museum (1996) In the latter he plays the colorful museum director Miles Baker, who brings art to the people by building a modern art museum in the form of an amusement park.
Selected Filmography
1967: Durango Street
1967: Mr M and Mr W
1968: Dannie and Floyd
1966/1969: Where The Bad Boys End Up
1970: Poison Lily of the Swamp
1970: Switch Rich
1971: Mr. Minus
1972: Swapping
1973: Hysteria
1974: La Jalousie
1975: All Over Town
1975: Not The Slightest Notion
1975: Weeping Willows
1976: Thou Shalt Not Kill
1978: Back To Jamaica
1980: Relative Connection
1981: The College Years Of Miss Lizzie
1981: Which Craft?
1982: All Wrapped Up
1983: The Locust Affair
1984: Suite Aloha
1985: Headless
1987: Levitation
1988: Fraternity Forever
1988: The Mock Crazy
1990: A Fiery Tale
1991: Mojo Poppie And Switchboard Momma
1993: The Telopath
1994: The Color Green
1996: The Mouse Museum
1998: Peepers
1998: The Great Teco = Noughts + Zeroes x Ciphers
2000: The Mobile Mummy
2001: Baron of M
2003: Boris and Bodil
2008: Le Chef Flambé
2010: The World of Ism