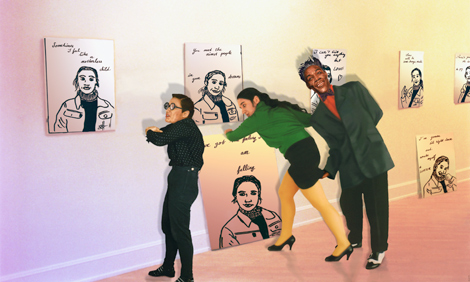 Marian Xiao, the artist (Elise Tak) and Thomas Kirby in 'The Mouse Museum' (gallery scene)
Digital painting, archival C-print, cibachrome, 29.5x49.25" / 75x125 cm, 1996
Edition 3 (+ 1 AP): 1/3 private collection, Italy; 2/3 private collection, Italy; 3/3 private collection, The Netherlands

'At satirizing pop-celebrity culture Ms. Tak is on the mark'.
- Grace Glueck, The New York Times

Artist statement
In her art the artist Elise Tak blends day-to-day reality with cinematographic fiction. She uses the imagery of film and popular culture to create a rich fictional and visionary world, while at the same time discussing contemporary, socio-political issues. For over 30 years already she has dedicated herself to the creation of an ever-growing body of work consisting of movie posters, film stills, lobby cards, studio portraits, billboards, set pictures, movie trailers and biographies, featuring the lives and careers of 10 fictional, yet 'world famous', movie actors. It is an intricate play between reality and fiction, between life and art, because whereas in the movies, real living actors create a false existence, in Tak's work even these actors are pure fiction.
The work is a long term project in which each new element becomes part of a multi-layered, narrative and visual architecture. Elise Tak works in both traditional and modern, digital media. In the early years of her career she made color pencil drawings on paper and paintings on canvas. In 1994 she started using a computer, creating 'digital drawings and paintings' (using Photoshop) and later on also work entirely created with 3D software (in programs like Cinema4D, Zbrush and Mari). For exhibitions and presentations Elise Tak's computer works are executed as C-prints. By continually experimenting with new developments she pushes her own artistic skill to new limits.
Up to now Elise Tak has 'given birth' to 10 movie actors, with different ages and from different backgrounds. Their names are: Michael Okada, Thomas Kirby, Marian Xiao, Pete Banich, Marvin Dunbar, Forough Amirshahi, Jeni Wright, Roy Rebergen, Charlie Pep and Anita Carbajal. Learn more about these actors by clicking on the menu item character lounge.

In exhibitions Elise Tak presents her fictional movie actors in a variety of settings. The focus can be on one specific fictional film, like The Book Assassination for 'Cinema Actuel' at Stedelijk Museum Bureau Amsterdam (1994), The Mouse Museum at Art Basel (1996), Dannie and Floyd at FRAC Poitou Charentes (1994) or The Nose at Pool Art Fair New York (2013). The attention can be on only one of the fictional actors, giving him or her a personal solo show, as in Michael Okada: The Man Who Loves to Hate YOU at gallery Ars Futura in Zürich (1995). Mostly, however, the focus is on the fictional world as a whole, like in The Magnificent Eight at Air de Paris in Paris (1994), The Celebrity Clinic at Gasser Grunert Gallery in New York (1999), Binary Fission at the Annet Gelink Gallery in Amsterdam (2000) and The Baby Dailies at De Cacaofabriek in Helmond, The Netherlands (2015).
Biography
Elise Tak was born in the Netherlands and lives and works in Brooklyn, New York. Since the early 1990s her work has been shown in leading galleries, museums and art institutes like Museum Boijmans van Beuningen, Stedelijk Museum Bureau Amsterdam, Frans Hals Museum/De Hallen, Museum Helmond (The Netherlands); Palm Beach Institute of Contemporary Art (USA); Musée de Luxembourg, Musée d'Art Moderne Contemporain Strasbourg, FRAC Poitou-Charentes, Le Consortium (France). Articles on her work have appeared in The New York Times, Flash Art, Der Spiegel, Art Press and many more. In addition, she has several large-scale public art projects to her credit, commissioned by leading institutes in the field like SKOR Foundation for Art and Public Space (the project Red Robbie: The Act Behind the Scenes, 2001-2003) and Stroom Den Haag (the project The Principal Head, 2003), both in The Netherlands. Her animation short Suicide Notes was produced in collaboration with the two-time Emmy-award winning composer Patricia Lee Stotter. Elise Tak was the projection designer for the play Flashback, which ran in a New York City theater in 2007. Her series of stills illustrating Gogol's The Nose originally was made for the short film Here's What I Like... Russian Literature. And Now I'll Tell You Why, directed by Abigail Zealy Bess and written and conceived by Amy Staats. In 2015 Elise Tak was the program director of Issyra Gallery in Hoboken, New Jersey.

See also: resume and press